Printers have become increasingly popular over the years and as personal and desktops computer technology have developed over the years so have the printing technology. Multi-functioning or All-in-one printers were created as an answer to consumers demand for a one stop shop for all your "Printing Needs" needs that include scanning, photocopying and faxing.  Some even send and receive emails if the WiFi features are enabled. To be able to use your multi-functioning printer to its maximum efficiency and capacity you need to familiarize yourself with how it works. Although the prices of these printers are no joke they make up for that with the ability and capacity to handle big and regular amounts of work. One of the major advantages of having a Multi-Functional printer is the continence of having all of those functions and features into one. Being able to photocopy, print, fax and scan (depending on the printer sometimes scan to email) with a single equipment saves on space and cost, you'll only need space for one printer and only need to buy ink cartridges for one printer. We have put together a list of tricks, tips and hack to get you on your way to getting the best of your All-In-One printers.
---
Costs – To save money on printing cost you should try Re-filling your cartridges instead of throwing them away and buying new ones. You can try to re-fill the empty cartridge by yourself but you might get your haves a bit dirty, you might be better off going to a computer shop for it.
If you have recently re-filled your ink but you still can't get your printer to work or it is still saying you need to re-fill think ink. It might be because air has entered the nozzles where the ink is meant to come out from. An easy solution to this is to try to draw some ink out of the nozzle manually, it is best to use a syringe (without the needle) and cling film. Use the cling film to create an air tight seal and then draw with the syringe until you see the ink start flowing.
If your printouts are coming out smeary on an inkjet printer it's probably because there is something sticking to the printhead. Once you realize the smearing immediately take out the cartridge to check that the plastic protective cover on the nozzle has been removed. Whilst doing this you need to be careful not to touch the nozzle with your fingers.
The ink estimation on your printer is just estimation and not a demand to buy new ink, estimation is just estimation. The next time your printer tells you that you are running low on ink but your printouts are still coming out clearly and without streaks you can keep printing till you see signs of fading.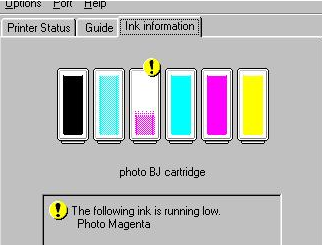 PrintFriendly.com – Sometimes when printing from a website or even through email the documents might have ads or other clutter that you probably do not want to print out. The guys at PrintFriendly.com have created an easy way to do this. Simply copy the URL of the site you want to print from and paste it within PrintFriendly.com. They make any document print friendly which in turns saves you money and time.
A lot of printer business make up their profits by selling the printers really cheap and making the ink quite expensive. A good tip for people planning on buying a new printer is to also check the price of the compatible cartridges. Sometimes you'll find out that the prices of the cartridges are not worth the cheapness of the printer.
If you have to install or re-install the driver disk for your printer on a computer but you can't find the one that came with the printer you shouldn't worry. Majority of printer manufactures have an archive of their drivers stored on their website, and if you're lucky you might even get the latest version.
This is a bit of an obvious one but we had to include it, if you are getting error messages or other problems when trying to print you should try rebooting both the printer and your computer.
If for some reason you need to print out a test page on your printer but don't have immediate access to your computer or your computer's print interface depending on the type of printer you can do this straight from the machine. For example on Epson printers you push and hold down "paper/resume" button and the push the power button, for HP printers you wait till the indicator stops blinking and then push and hold the power button and then open and close the panel about 3 or 4 times repeatedly. You can check online for your specific printer and how to print a test page without a computer.
As boring as it sounds even something as simple as the paper you use can save you money in the long run. The type of paper you use determines how much of the ink will be dispersed onto the paper and how much ink if any gets bleed on to the surrounding areas or stays in the same spot.
Another way to save money on ink is to change the print quality from your printer settings to "draft" or "gray-scale". You could also print double sided if your printer allows it to save money on paper.
If your print outs are not printing well it might be because your Ink Cartridge has dried up. If this happens you should try taking out the printhead and dipping it in hot water for a couple of seconds, then dab it in some tissue or on a dry clothe and then put back into the printer.
So we have provided you with 12 easy tips and hack to enable you to be able to use your printer to its maximum potential. If you are having problems with your printer or if you think we have left out any tips fell free to call or drop us an email.
---
Sources
http://www.photocopierprices.com/advantages-and-benefits-of-multifunction-printers/
https://kb.wisc.edu/showroom/page.php?id=3099
http://www.adorama.com/alc/483/article/multi-function-printer-tips-and-buying-guide
http://www.instructables.com/id/Hacking-a-Brother-440CN-multi-function-printer/
http://copitex.com/top-10-printer-tips-and-tricks/